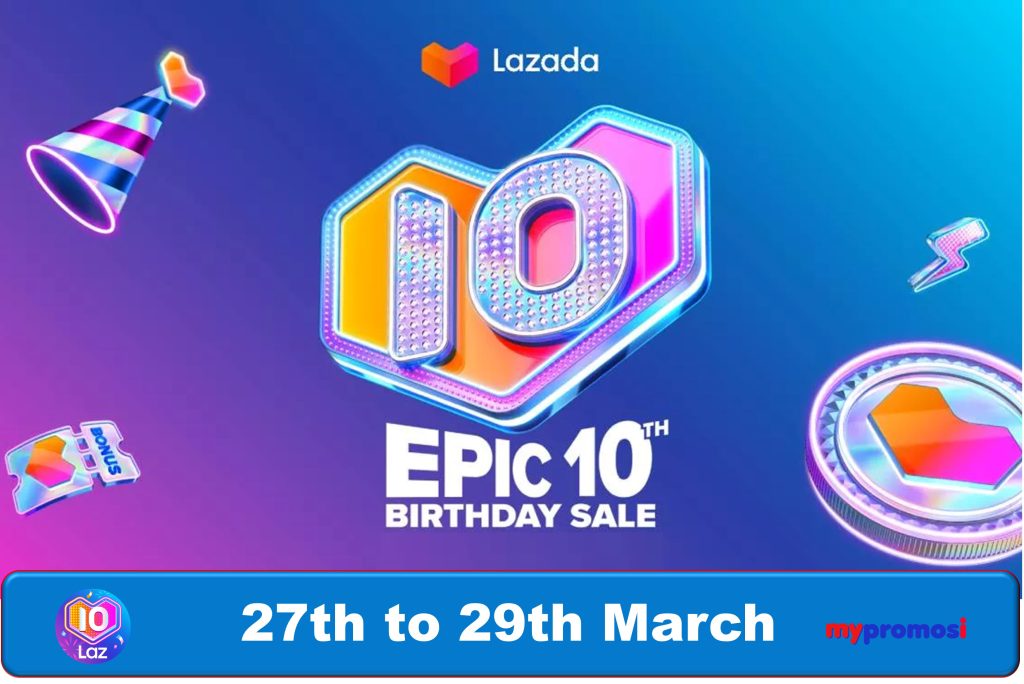 Lazada 10th Epic Birthday Sales | Our Epic Birthday , Your Epic Party. Birthday Sale akan berlangsung dari 14 – 31 Mac 2022. Jualan Mega Sale pada 27 – 29 Mac merupakan jualan Epic selama 3 hari. Bersiap sedia untuk menebus bank voucher untuk digunakan semasa Jualan Harijadi Lazada ke 10!
Senarai voucher bank

Lazada 10 Birthday Sale Bank Voucher
Mastercard – 12% off capped at RM12
All Citi Cards – RM 18 min spend RM 100
Lazada Citi Credit Card – RM 25 min spend RM 100
RHB Credit Cards – RM20 min spend of RM 150
CIMB Mastercards – RM50 off min spend of RM580
CIMB Mastercards – RM15 off min spend of RM150
All CIMB Cards – RM15 off min spend of RM150
Affin Bank – RM13 off min spend of RM150
Collect & Use from 27.03 to 29.03
Collect Vouchers Here: https://mypromosi.my/lazada/voucher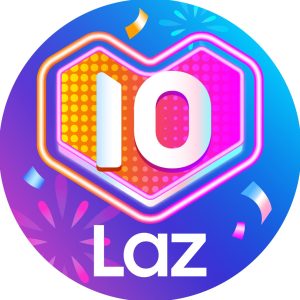 Promosi Shopee dan Lazada untuk ANDA.
Yang suka makan dried mango, mesti cuba yang ni. Memang popular satu dunia! Ada dua jenis, 7D atau Cebu. Min biasa beli dua dua sekali, then compare rasa. Macam sama tapi tak sama, masam manis, SEDAP!

Boleh beli kat sini: https://shope.ee/503NOi0y4Y
7D Philippines Dried Mango, Cebu Mango Dried
Don't Miss Out on Daily Vouchers 60% OFF Vouchers* and Free Shipping
Lazada's 10th Birthday sale brings you MAJOR savings! Shop essentials to trends with Lazada Malaysia Birthday sale and get exclusive daily discount vouchers. Plus, free shipping on your most-wanted items!
Shop on Lazada app for convenience, everything you want is one tap away! Want to treat yourself? Celebrate with RM10 Lazada Bonus, 50% Coin Cashback*, 60% deals with Brand Mega Offers and more!
That's not all, Crazy Flash Sale brings you epic RM10 to steal. So keep your eyes peeled and your fingers ready and add your items to cart before they're gone!
Lazada Birthday Sale Has Everything You Need
Here at Lazada, we have everything you need! From home essentials to lifestyle pleasures. Stay home, we deliver. Free shipping + major discounts! What better way to shop than to shop on the Lazada app?
Beauty Deals To Steal!
Lazada Birthday Sale brings you exclusive skincare and makeup deals! Be the best version of yourself this holidays with limited brand deal.
Stay Healthy With Lazada!
It can be hard taking care of your health, but not when Lazada's 10th Epic Birthday Sale has you covered!
We have the best supplements, exercise equipment and sport accessories for you to stay healthy and in shape at home.
Never Go Hungry With Lazada!
Lazada Malaysia 10th Birthday Sale has all your daily grocery shopping needs. Get your groceries delivered to your door-step by shopping on our Lazada app! We bring you the best grocery at lowest possible price! Check out Lazada's grocery store now!
So what are you waiting for? Lazada Malaysia's 10th Epic Birthday Sale starts now!